Cygames Calendar December 2021: Happy Holidays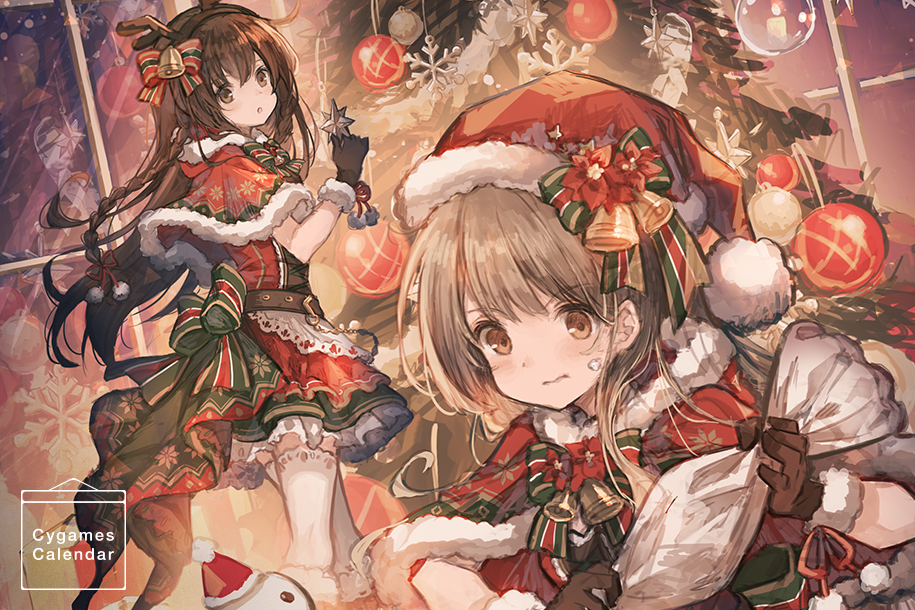 Liven up your PC or smartphone with the Cygames Calendar! We have one of our illustrators create a uniquely themed image each month and ask them to tell us about the creation process. December's theme is "happy holidays."
Let this month's image bring some holiday cheer to your PC or smartphone!
Download this month's calendar.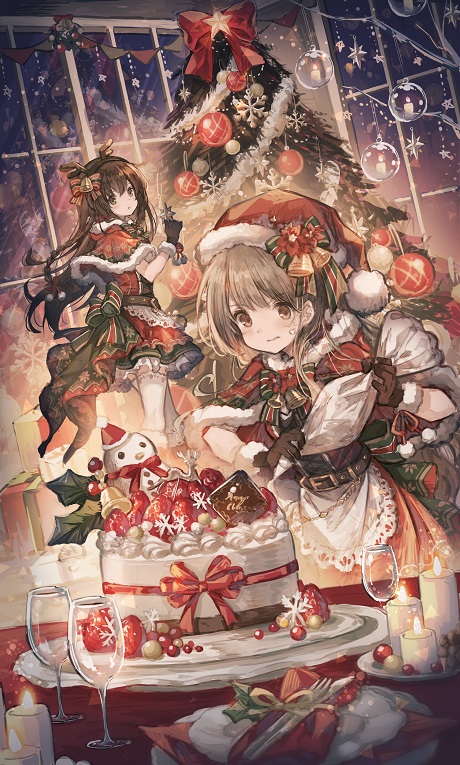 Yume studied design at a technical high school and went on to learn 2D illustration at a vocational school. At Cygames, she oversees costume design for ongoing titles. Calming colors are her specialty.
A clumsy girl with her younger sister looking on. They're getting ready for a party.
Can you tell us about the scene you have created here?
Yume

I drew two sisters getting ready for a holiday party. The older sister, in the foreground, is a hard worker but rather clumsy. Her well-coordinated and caring younger sister watches on.
So the one in the front is the older sister? She sure looks focused.
Yume

That's exactly right. She's trying to put the finishing touches of whipped cream on the cake her younger sister has decorated. I hope that her expression and how her hair is hanging over her ears convey just how hard she's trying.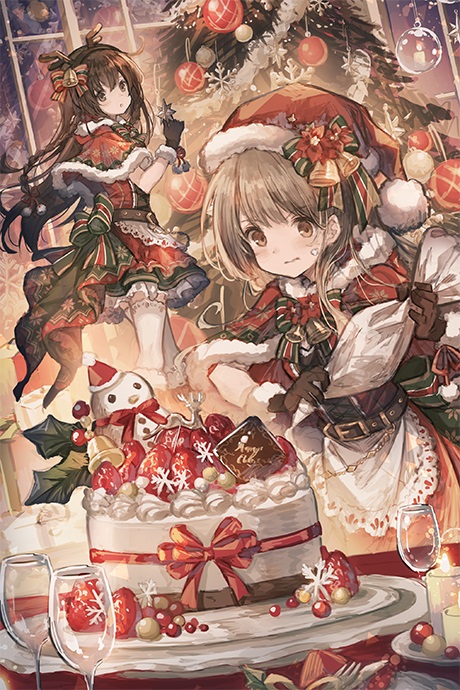 Yume

The younger sister is a little worried but warmly watches her sister hard at work from the background.
Their outfits are gorgeous. Could you tell us about the concept for them?
Yume

I created matching outfits for the sisters. But having everything exactly the same would be bland, so I gave them different head accessories. The older sister is wearing a Santa hat to bring out the holiday theme, and the younger sister's reindeer headband matches the color of her hair. Since they're baking a cake, I added aprons on top of their skirts.
Which part of this illustration was the most fun to draw?
Yume

Their faces! Drawing girls' faces is my absolute favorite part of the job.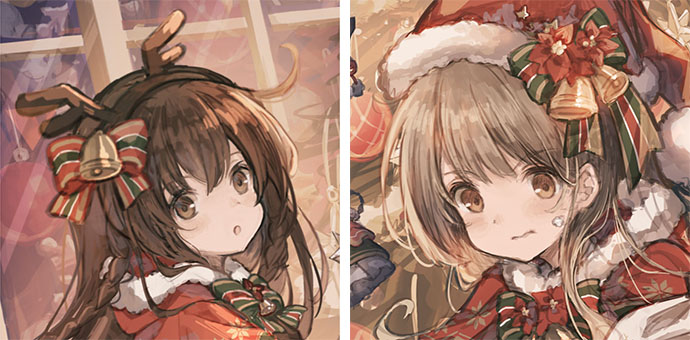 That cake looks delicious. What type of cake did you have in mind when you started drawing it?
Yume

I wanted to draw a cake that would make people think "I want a slice!" when they saw it. From there, I wanted to incorporate snowmen, strawberries, chocolate, and holly motifs into the design. This was the end result.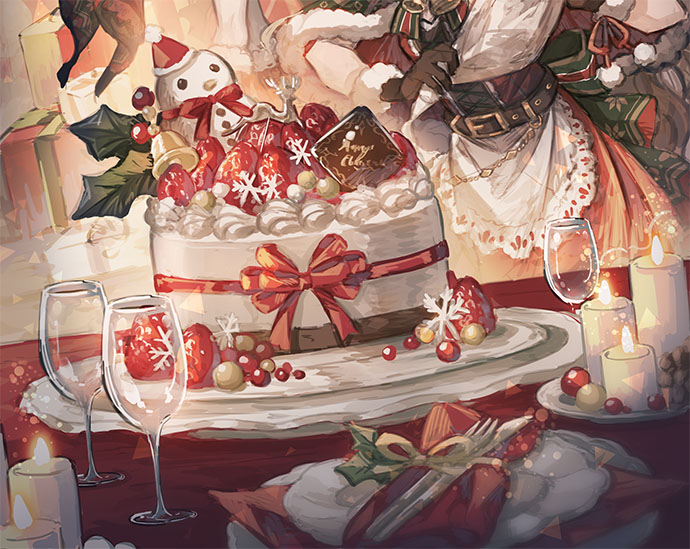 But I heard the cake and table design were the most difficult parts for you…
Yume

Very much so. I guess you could say I'm not good at drawing small knickknacks, so that table took me the longest to draw even though it's not very big. I collected tons of holiday reference materials for ideas, too. (laughs)
What kinds of reference materials did you collect, besides those for the table?
Yume

I took a lot of inspiration from holiday decor overseas and Scandinavian interior design for the background. As for the outfits, I didn't need to collect as much material because I'm working as a costume supervisor for one of our ongoing titles. That drawing process was very smooth.
The background is very festive. How did you create the ambience?
Yume

I wanted to create a warm yet lively mood. While the background is important, it's the characters I want people to see. So I toned down the saturation and used lighting to create the right atmosphere.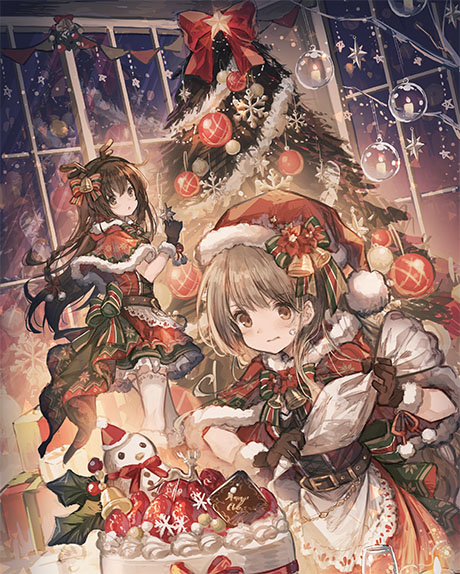 Do you draw on your own time as well?
Yume

All the time. Ever since pre-school, I was the girl who stayed inside to color while everyone else went outside to play during recess… (laughs) Nowadays, I try drawing the most popular characters of the day to practice design trends on my own. Also, as a side note, my family sometimes asks me to draw icons they can use for their LINE profiles. (laughs)
What is the best part of being an illustrator?
Yume

I would say it's when my work is well-received by the fan base. I've never been good at expressing myself with words, so knowing that I can convey things through my artwork is the best feeling in the world.
On a final note, do you have a message for the readers?
Yume

With the Covid-19 situation continuing, I'm sure everyone misses getting together with friends and family over the holidays. I hope that this illustration can recreate the excitement of partying together and give some hope for a return to normalcy.
---
Calendar Preview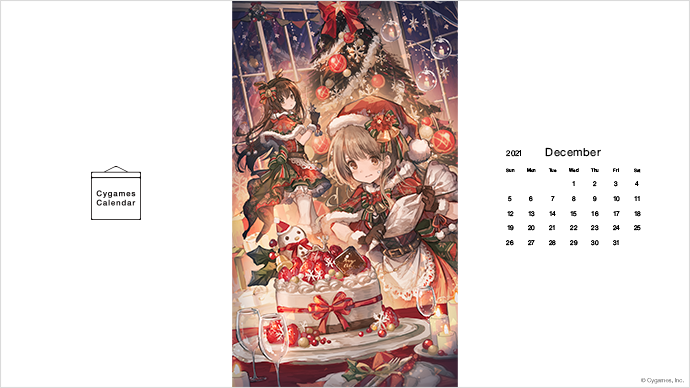 For iPhone/1125 x 2436
For Android/1125 x 2001
For PC/1980 x 1080 (white background)
For PC/1980 x 1080 (black background)
*Images will open in a new window.
Terms of Use
We ask that you refrain from reproducing or redistributing these images. Please refer others to this page when sharing. Do not use these images for commercial purposes.