Cygames Calendar, July 2022: Tanabata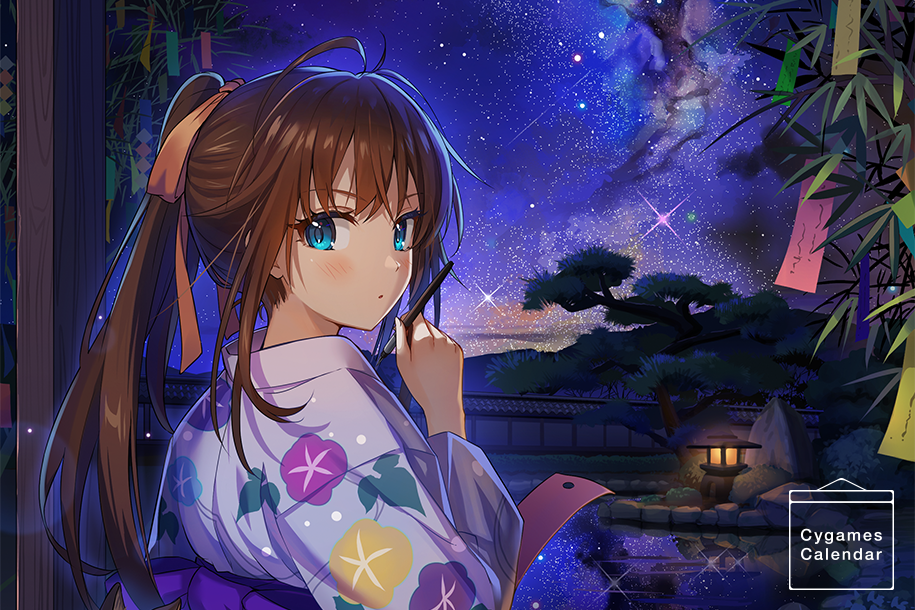 Liven up your PC or smartphone with the Cygames Calendar! We have one of our illustrators create a uniquely themed image each month and ask them to tell us about their creative process. July's theme is "Tanabata."
(Tanabata is a Japanese festival that celebrates the reunion of Orihime and Hikoboshi, two lovers who are separated by the Milky Way and can only meet once a year, traditionally in early July. During the festival, people write wishes on little pieces of paper called tanzaku and hang them on bamboo in the hope that their wish will be granted.)

Personalize your device with the finished piece, available in horizontal and vertical resolutions.

Click here for this month's calendar image.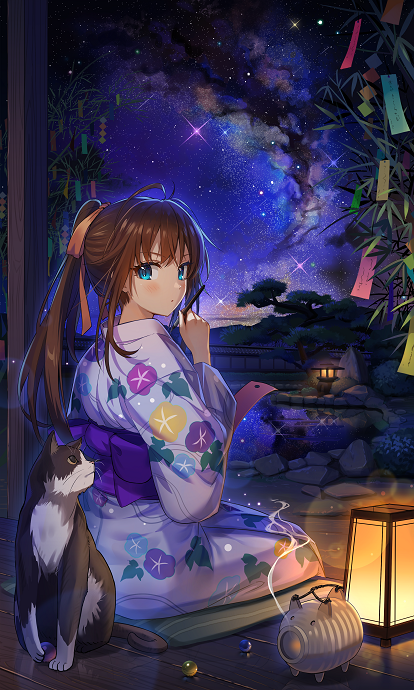 After graduating from an art-focused high school, Shuhei went on to study digital art in university. At Cygames, he works on coloring and specializes in character illustrations.
Are we more than friends?
Love and wishes on Tanabata
What led you to choose Tanabata as the theme for your July illustration?
Shuhei

It's the holiday I associate the most with July. In my artwork, I tried to portray Tanabata's themes of love and wishes.
Could you explain the piece's setting?
Shuhei

I imagined a scene where a girl is about to write down her wish for Tanabata but pauses when she notices you, blushing as your eyes meet.
So that's why she's looking back at us. How does she see the viewer?
Shuhei

I think her relationship with the viewer is up to their interpretation, but if I had to come up with an answer, I feel like she has a crush on them. You aren't dating yet, but she sees you as more than a friend.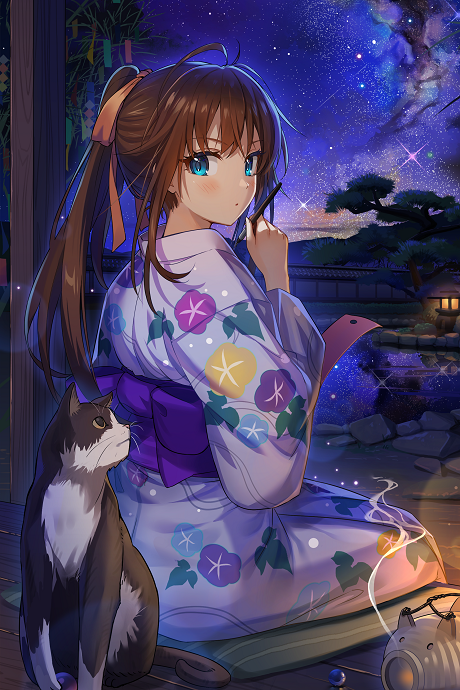 Can you explain the tanzaku? She hasn't written a wish down yet.
Shuhei

Tanabata is the one day a year that Orihime and Hikoboshi are able to convey their feelings to each other. I think the girl in the picture is still trying to figure out how to convey hers. Anything more than that is up to the viewer's imagination, though.
How about her expression then? Did you plan to make her a tsundere character from the start, or did she develop into one as you went?
Shuhei

Initially, I was going to draw her lost in thought, but that made her feel too distant. I wanted to show more of her relationship with the viewer, so I had her look back with a slightly annoyed, embarrassed expression instead.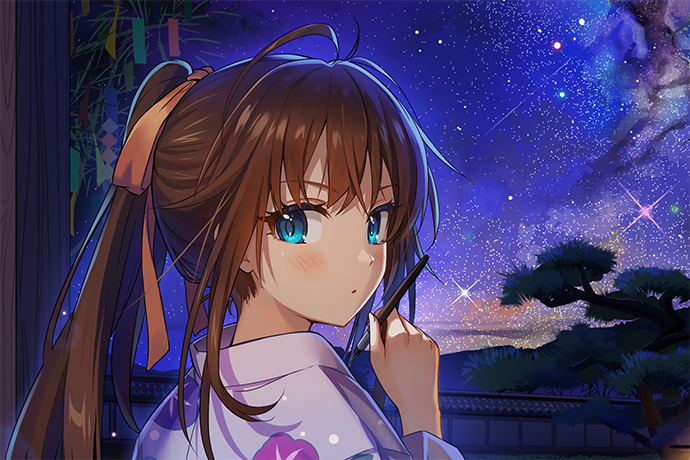 She kind of looks like she has something she wants to say.
Shuhei

Exactly. I hope people will be able to pick up the mix of emotions I gave her.
As I understand it, you had trouble coming up with the overall layout.
Shuhei

Yes, I sketched out several ideas before settling on this one. The first thing that came to mind for Tanabata was the Milky Way, so it was tricky to balance that with the character.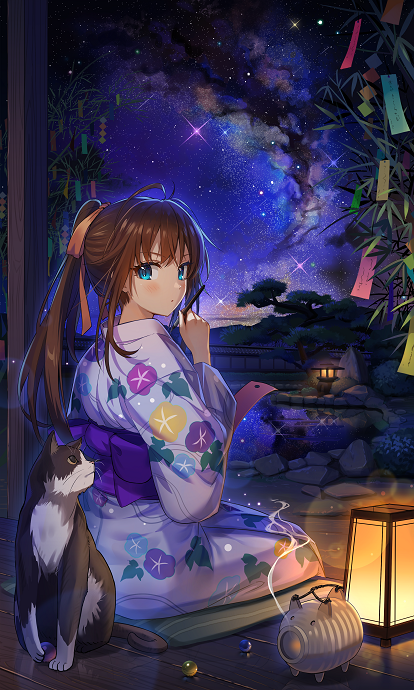 I can tell you put a lot of detail into the background.
Shuhei

Seeing as Tanabata's a Japanese holiday, I decided to draw a traditional Japanese garden. The pond was a perfect excuse to draw the Milky Way reflected in water.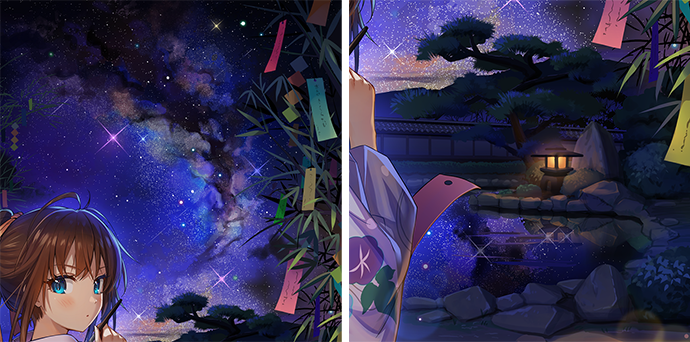 You started studying art in high school, right? What inspired you to become a professional illustrator?
Shuhei

Well, I always liked manga and anime. I looked up to the creators and wanted to be like them someday. I started considering illustration as a career path in middle school.
Now that you're a pro, what's your favorite part of your job?
Shuhei

Seeing people's reactions when something I worked on goes live. Expectations are high, but it's fun getting to do something I love every day. It was also really fulfilling to see something I colored on a magazine cover. I ended up buying three copies! [laughs]
Do you draw outside of work?
Shuhei

I do. At Cygames, I mainly color and finish sketches other people started, so I draw characters I like from scratch in my free time.
Are there any habits you've picked up as an illustrator?
Shuhei

When I'm out and about, I tend to see people's fashion choices from a character design perspective—you know, the outfit's color palette, how accessories affect the silhouette… [laughs]
Anything else you want to share with the reader before we wrap up?
Shuhei

I hope you'll have fun imagining who you are to the girl and what she was going to write for her Tanabata wish!
---
Calendar Preview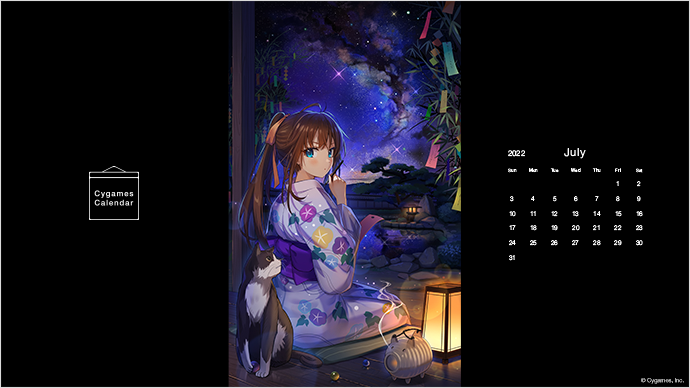 For iPhone/1125 x 2436
For Android/1125 x 2001
For PC/1920 x 1080 (white background)
For PC/1920 x 1080 (black background)
*Images will open in a new window.
Terms of Use
We ask that you refrain from reproducing or redistributing these images. Please refer others to this page when sharing. Do not use these images for commercial purpose