Cygames Calendar, August 2022: Watermelons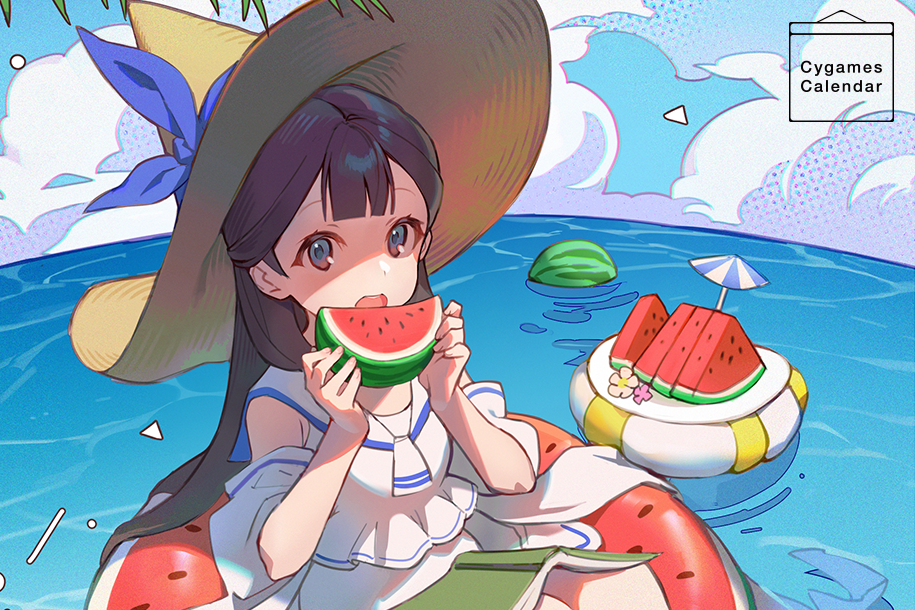 Liven up your PC or smartphone with the Cygames Calendar! We have one of our illustrators create a uniquely themed image each month and ask them to tell us about their creative process. The theme for August is Watermelons!
Personalize your device with the finished piece, available in horizontal and vertical resolutions.

Click here for this month's calendar image.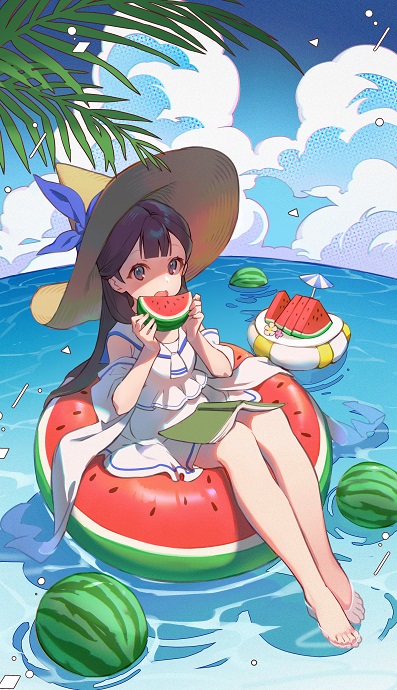 Hae-jin studied animation in university before joining Cygames, where she does everything from character design to coloring. Her specialty is creating illustrations that convey movement.
Taste each season as it comes:
Sink your teeth into a watermelon this summer vacation
What inspired you to choose "Watermelons" for the August theme?
Hae-jin

In my mind, August is the hottest summer month. When I thought of a motif that would best represent the heat, I thought of watermelons, since you can only eat them during the summer. This is also the time of year many people take their summer vacations, so I thought the two themes combined would represent August nicely.
Can you tell me about the character you've drawn?
Hae-jin

I wanted to create a contrast with the girl, who's normally reserved, by bringing out a freer, bolder side to her through the watermelon.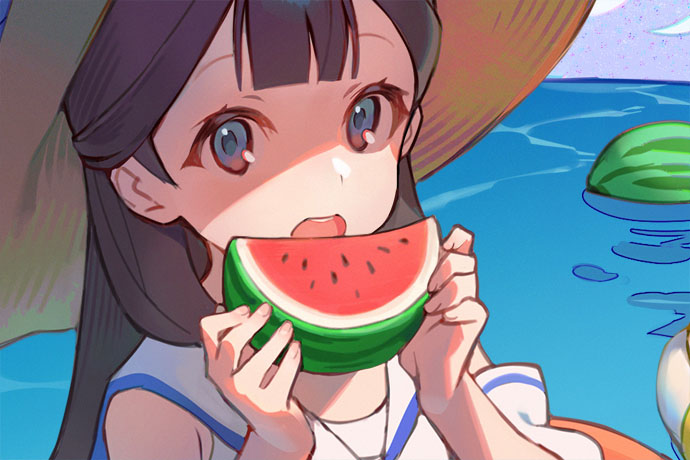 Hae-jin

So, she's got her mouth wide open to take a bite. To juxtapose that bold action, I thought about how she could hold the watermelon slice to convey a shy, softer feeling. I spent a lot of time tinkering with the placement of her fingers.
Her swimsuit and hat are adorable too. How did you come up with her outfit?
Hae-jin

From a color perspective, I chose white as the base color for the swim ring so the watermelon slices stand out. Design-wise, I was inspired by the sailor-themed outfits girls wear in the summer. I also wanted to add a mage's flair to the outfit, hence the longer sleeves flowing into the water.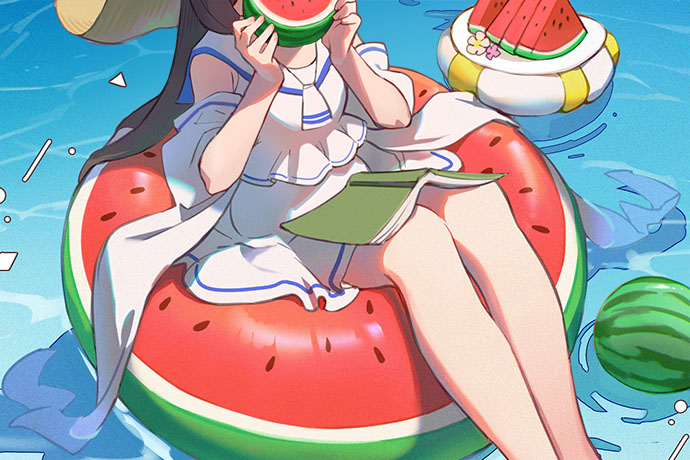 Summer is reflected in everything from the ocean and the cumulonimbus clouds, to the color palette you've used. Tell us what you focused on especially when working on the background art.
Hae-jin

This time, I wanted to move away from typical game art and play around with graphic art and city pop styles. I also like simple drawings, so I avoided overloading it with detail. That meant having to find the right balance between tightening the drawing without lowering the overall quality.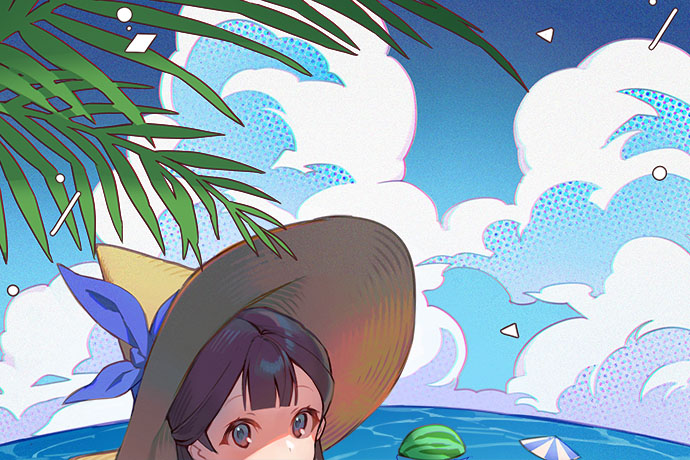 You always pay attention to the silhouette as you draw.
Hae-jin

I do. I think about how the individual silhouettes would look when they come together. For this piece, the watermelon swim ring and the horizon are curved, but the tip of the hat and the palm tree leaves are pointed, creating a nice balance.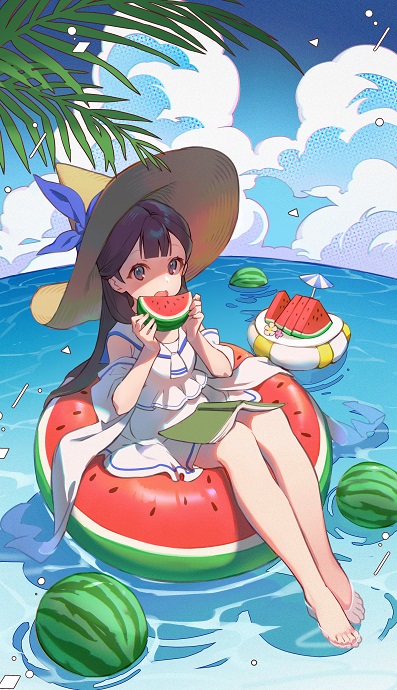 Did you specialize in drawing at school?
Hae-jin

I majored in animation. I wanted to be an animator, but became increasingly drawn to character design and entered the video game industry.
Did you enjoy drawing during your childhood?
Hae-jin

Yes. Around middle school, I decided I wanted to get a job where I could draw. My parents were against me going to an arts university but I convinced them. I said, "Let me study a year for the entrance exams and we can talk after." But my exam results weren't that great…
What did you do after that?
Hae-jin

Just when I thought I'd have to give up, my parents told me they saw how hard I'd been working, and if I truly liked drawing, then I should continue to follow my passion.
So you were able to continue down this path because of your hard work and passion. Now that your dream has come true, what's something you like about your job?
Hae-jin

I love seeing the reactions from people when one of my works gets released. I always try to bring out my own personal flair, so when someone says they love a character I've drawn, I get all giddy and say, "Me too!"
Do you draw outside of work?
Hae-jin

Yes, I do. I love the feeling I get when I draw, so it's become a habit. That said, I should probably get up and move around more…
Anything else you want to share with the readers before we wrap up?
Hae-jin

On a personal note, I've been trying to eat healthier, focusing on a diet with fresh fruits and veggies. I drew that watermelon thinking, "How about a nice, fresh, juicy watermelon?" If seeing this picture makes anyone else hungry for one, then I'd be pleased.
---
Calendar Preview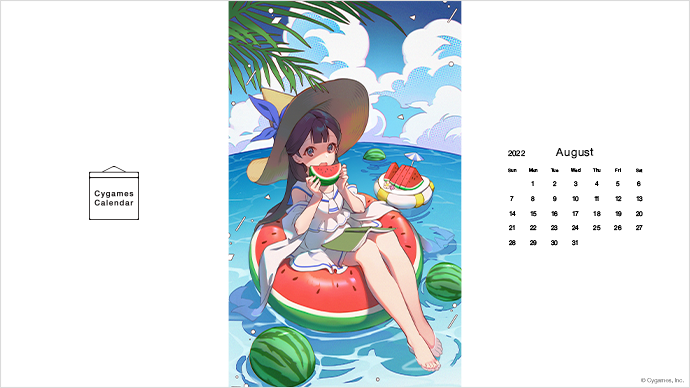 For iPhone/1125 x 2436
For Android/1125 x 2001
For PC/1920 x 1080 (white background)
For PC/1920 x 1080 (black background)
*Images will open in a new window.
Terms of Use
We ask that you refrain from reproducing or redistributing these images. Please refer others to this page when sharing. Do not use these images for commercial purpose